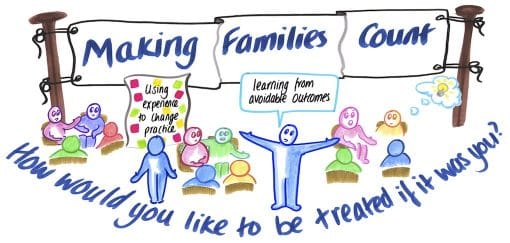 Following the latest Public Health England and Government guidance regarding non-essential travel and large gatherings, the Directors of Making Families Count have decided to cancel the Making Familis Count conference on May 21st, "Family Liaison Officers- the future of family support after NHS incidents?" We plan to reshedule this conference for later in the year to reflect the amount of interest there has been in it.  If you have any queries about this cancellation please contact us using the contact page on this website.

Making Families Count helps health and care providers learn and improve by improving engagement with families.
We provide independent training in the importance of excellent family engagement for NHS Trusts, public health, social and care organisations, including working with families after serious incidents through training days and training programmes.
Our vision is that lessons are learnt and services transformed by Making Families Count, through placing the family front and centre during health and social care investigations.
Making Families Count is an independent, not-for-profit community interest company, set up by NHS England South in 2015, in partnership with key charities.