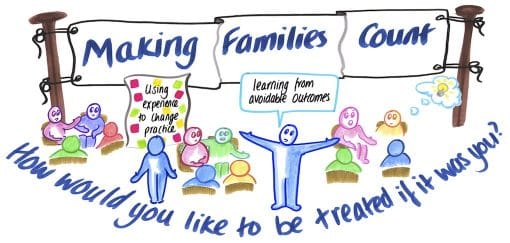 Making Families Count aims to improve outcomes for families affected by serious harm and traumatic bereavements in health and social care services.
Through peer support, we want to empower families and individuals to better deal with the complexity and stress of their situation.
We provide information, advice and guidance to families.
Our vision is that lessons are learnt and services transformed by Making Families Count, by placing the family front and centre during health and social care investigations.
We help health and care providers learn and improve by improving engagement with families.
We provide independent training in the importance of excellent family engagement for NHS Trusts, public health, social and care organisations, including working with families after serious incidents through training days and training programmes.
Our direct lived experience and professional expertise of these issues include:
acute mental health services,

social care services,

fatal domestic abuse,

suicide,

mental health homicide, and

premature deaths of people with learning disabilities.
Making Families Count was set up as a project funded by NHS England South in 2015 and became an independent, not-for-profit Community Interest Company in February 2019.